Dash and Cue Robots
What is
Dash
?
Dash is a real robot for children ages 8 and up that is responsive to its world; your child can bring it to life with our free apps available on iOS and Android. Dash comes with hundreds of exciting coding adventures and projects available in Wonder and Blockly apps.
Use your Apple or Android smart phone or tablet to program Dash to move, dance, light up, make sounds, avoid obstacles, and even react to their voice. With the revolutionary free app Wonder, kids can program Dash to be the real robot pet, pal or sidekick of their dreams.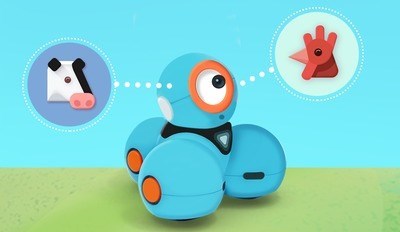 Dash Robots available through the Resource Centre
Click on the above image to access some educational resources for Dash.
Cue Robot kit available through Resource Centre
Image: Cue Robot - Wonder Workshop - US (makewonder.com)